Brochures
Our approach is distinctly innovative. We constantly seek new ways to increase client
Stainless Steel 347 Pipes Supplier in India
SS 347 Seamless Pipe, UNS S34700 AISI 347 Round Pipe, DIN 1.4006 Type 347 Square Pipe, Grade VSS Hollow Pipes, ASTM A312 TP 347 Welded Pipe manufacturer in India
Sumer Metal Industries is a leading stockist and exporter of industrial steel and SS 347/347H Pipes & Tubes. All of our products are created with the highest quality raw materials and adhere to international standards. Before being delivered to clients and vendors, all of our items are thoroughly checked and examined. We may also create customised versions of the products based on the dimensions and specifications provided by the buyer. ASTM A312 Gr TP347 Pipes & Tubes are made with the various types of the features like tolerance, types, thickness, size, condition, grade, finish, end, forms, shape, length, width, standards, dimensions, surface, and applications as well.

Customers Are Our Top Priority
We offer When you are ready to make your business dreams a reality, it begins with contacting an experienced construction company to help you begin the process.
Specification of Stainless Steel 347/347H Seamless Welded Pipes And Tubes
Stainless Steel Pipe Specification : ASTM A312, A358 / ASME SA312, SA358
SS Tube Specification : ASTM A213, A269, A249, A511, A554 / ASME SA213, SA269, SA249, SA511, SA554
Pipe Size : 1/8" NB to 24" NB, 1/4" OD to 24" OD sizes.
Tube Size : 1/2″ OD to 8″ OD.
Thickness Range : 0.3mm – 50 mm, SCH 5, SCH10, SCH 40, SCH 80, SCH 80S, SCH 160, SCH XXS, SCH XS
Type : Seamless / ERW / Welded / Fabricated Pipes
Form : Round, Square, Rectangular, Oval, Hydraulic Etc
Length : Single Random, Double Random & Required Length
End : Plain End, Beveled End, Treaded
End Protection : Plastic Caps
Outside Finish : 2B, No.4, No.1, No.8 Mirror Finish for Stainless Steel Pipes, Finish as per customer Requirements
Delivery Condition : Annealed and Pickled, Polished, Bright Annealed, Cold Drawn
Inspection, Test Reports : Mill Test Certificates, EN 10204 3.1, Chemical Reports, Mechanical Reports, PMI Test Reports, Visual Inspection Reports, Third Party Inspection Reports, NABL Approved Lab Reports, Destructive Test Report, Non Destructive Test Reports
Packing : Packed in Wooden Boxes, Plastic Bags, Steel Strips Bundled, or as per Customers Requests
Specials : Sizes and Specifications other than above can be manufactured on request
347/347H Stainless Steel Pipes and Tubes Equivalent Grades
| STANDARD | UNS | WNR. | EN | JIS | GOST |
| --- | --- | --- | --- | --- | --- |
| SS 347 | S34700 | 1.4550 | X6CrNiNb18-10 | SUS 347 | 08Ch18N12B |
| SS 347H | S34709 | 1.4961 | X6CrNiNb18-12 | SUS 347H | – |
Chemical Composition of Stainless Steel 347/347H Seamless Pipes And Tubes
Element
C
Cr
Mn
Ni
P
S
Si
Cb/Ta
347
0.08 max
min: 17.0
max: 20.0
2.0 max
min: 9.0
max: 13.0
0.04 max
0.30
max
0.75
max
min:10x C
max: 1.0
347H
min: 0.04
max: 0.10
min: 17.0
max: 20.0
2.0 max
min: 9.0
max: 13.0
0.03 max
0.30
max
0.75
max
min:10x C
max: 1.0
Mechanical Properties Of Stainless Steel 347/347H Seamless Pipes and Tubes
Grade
Tensile Strength ksi (MPa) min
Yield Strength 0.2% ksi offset ksi (MPa) min
Elongation (% in 50mm) min
Hardness (Brinell) MAX
Hardness (Rockwell B) MAX
347/347H
75
(515)
30
(205)
40
201
95
Physical Properties of 347/347H Stainless Steel Pipes And Tubes
Density
lbm/in3
Coefficient of
Thermal Expansion (min/in)-°F
Thermal Conductivity BTU/hr-ft-°F
Specific Heat BTU/lbm -°F
Modules of Elasticity (annealed)2-psi
at 68 °F
at 68 – 212°F
at 68 – 1832°F
68-932°F
at 32 – 212°F
in tension (E)
0.288
9.2
11.4
14.7
0.12
28 x 106
Stainless Steel 347 Pipes at Best Price:-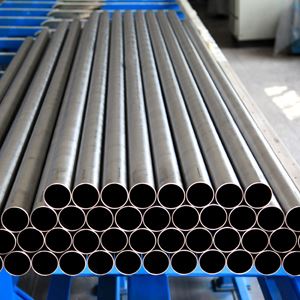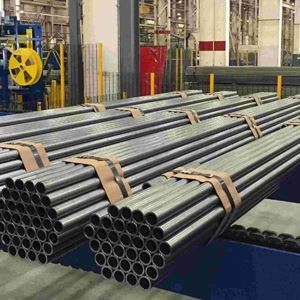 EIL approved Seamless DRL 1.4961 Austenitic Stainless Steel Round Pipe, 347 stainless steel rectangular pipes of prime quality, Stockist and supplier of 347 Stainless Steel Tubing as per ASTM A312/ A999/ A249/ A358/ A213 American standards
Electric fusion SA 312 TP 347 are available in a range of sizes from 6 inches to 100 inches. Even at high temperatures, they have good creep resistance. Marine surroundings, marine architecture, and equipment and laboratory furnishings all require 347 stainless steel pipe. Electric resistance welding is used to create SS 347 ERW pipes, which are ideal for severely welded applications. They are available in the following finishes: annealed, bright annealed, pickled, cold drawn, and polished. SS 347 Welded Pipe comes in a variety of thicknesses, which are specified in the various schedules.
SS 347/347H Welded Pipe Heating and welding treatments are applied to pipes and tubes to improve performance in annealed temperatures and conditions. These pies have been built with dimensional accuracy in mind for usage in the chemical and culinary industries. These tubes are resistant to all types of general corrosion, including pitting, impact, stress, crevice cracking corrosion, and seawater rust. These pipes and tubes must pass a variety of tests, including the macro, micro, chemical, hardness, mechanical, hydrostatic, radiography, flaring, flattening, PMI, and ultrasonic testing.
Application Industry
Oil and Gas Pipeline
Chemical Industry
General Purpose Applications
Fabrication Industry
Food Processing Industry
Pharmaceutical Equipment
Material Testing
Hardness Test
Flattening Test
Micro and MacroTest
Pitting Resistance Test
Flaring Test
Intergranular Corrosion (IGC) Test
Documentation
Fumigation Certificates
Raw Material Test Reports
Material Traceability Records
Heat Treatment Charts
Guarantee Letter
Commercial Invoice which includes HS Code
Stainless Steel 347/347H Pipes Supplier
Mumbai, Delhi, Kolkata, Chennai, Bengaluru, Hyderabad, Ahmadabad, Pune, Surat, Jaipur, Kanpur, Lucknow, Nagpur, Ghaziabad, Indore, Coimbatore, Kochi, Patna, Kozhikode, Thrissur, Vadodara, Agra, Malappuram, Thiruvananthapuram, Kannur, Ludhiana, Nasik, Noida, Madrid, Sharjah, Moscow, Hong Kong, Lagos, Montreal, Bogota, Los Angeles, New Delhi, Jeddah, Chennai, Kanpur, Edmonton, Istanbul, Bhopal, Calgary, Ulsan, Rio de Janeiro, Colombo, Cairo, Ludhiana, Indore, Thane, Dubai, Seoul, Santiago, Kuwait City, Dammam, Tehran, Busan, Rajkot, Nagpur, La Victoria, Bangkok, Granada, Lahore, Manama
Stainless Steel 347/347H Pipes Exporter
South Korea, South Africa, Sri Lanka, Syria, Taiwan, Tanzania, Tajikistan, Thailand, Turkey, Turkmenistan, Ukraine, United Kingdom, United Arab Emirates (UAE), Uzbekistan, Vietnam, Yemen, France, Germany, Greece, Oman, Colombia, Portugal, Japan, Lithuania, Macau, Mongolia, Qatar, Ireland, Malaysia, Bangladesh, United Kingdom, Russia, Iran, Vietnam, Jordan, Yemen, South Africa, Singapore, Sri Lanka, Thailand, Bulgaria, Poland, Denmark, Nigeria, Gambia, Indonesia, Finland, Argentina, Chile, Spain, Peru, Kuwait, India, Saudi Arabia, Slovakia, Slovenia, Spain, Sweden, Switzerland, Singapore
People Also Search For
Stainless Steel 347/347H Seamless Pipes & Tubes Manufacturer, Stainless Steel 347/347H Seamless Pipes & Tubes Exporter, Stainless Steel 347/347H Welded Pipes & Tubes Manufacturer, Stainless Steel 347/347H Welded Pipes & Tubes Exporter, Stainless Steel 347/347H Pipes and Tubes, SS 347 Seamless Tubes, Stainless Steel 347H Welded Pipes, SS 347 EFW Pipes in Mumbai, Stainless Steel 347 Seamless Pipe, SS 347 Welded Pipe, SS UNS S34700 ERW Pipe, ASTM A312 TP 347 Square Pipe, DIN 1.4550 schedule 40 pipe, SS 347H Rectangular Pipe