Brochures
Our approach is distinctly innovative. We constantly seek new ways to increase client
Stainless Steel Pipes Supplier in Mumbai, India.
Stainless Steel Pipe Manufacturers in India, Stainless Steel Pipes Price, SS Pipe Price per kg, SS pipe suppliers, Stainless Steel Pipes Price, Stainless Steel Pipe Suppliers in UAE, Stainless Steel Pipe Suppliers UK, Stainless Steel Pipe Suppliers in Saudi Arabia, Stainless Steel Pipe Suppliers in Qatar, Stainless Steel Pipe Suppliers Australia.
ASTM A312 Stainless Steel Pipe supplier in Mumbai, Stainless Steel Welded Pipe Manufacturer in India
Seamless Stainless Steel Pipe is a large category of piping material that comes in a variety of compositions, forms, and varieties. All varieties of stainless steel pipes are manufactured and supplied by us. Sumer Metal Industries has been in the company for a long time and also manufactures Stainless Steel Pipe. Stainless steel pipes come in a variety of shapes and sizes. Electric resistance welding is used to make Stainless Steel ERW Pipes, however other forms such as electric fusion welding and cold drawn pipes are also available.
Customers Are Our Top Priority
We offer When you are ready to make your business dreams a reality, it begins with contacting an experienced construction company to help you begin the process.
Stainless Steel Sheet Specification
Standard Specification
ASTM A 312/ ASME SA 312/ A790/ SA790/ EN10216-5
Size
½" to 6" NB Sch 10s, 40s, & 80s, 160s
Wall Thickness
0.1 – 60 mm
SS Seamless Pipe Length

Single Random Length 5to7 mtr
Double Random Length 10-12 mtr

Seamless SS Pipe Surface Finish
Cold Finish, Bright, Polished, Annealing, Pickling, or as per client requirements
Standard
JIS, AISI, ASME, ASTM, AMS, GB, DIN, EN, GOST
Manufacturing types
Seamless, Welded, ERW, EFW
Manufacturing Shapes
Round, Square, Rectangle, Box Section
Manufacturing Technology
Hot / Cold Formed
Hot SS Pipe grades

ASTM A312 TP304
ASTM A312 TP304L
ASTM A312 TP316
ASTM A312 TP316L
ASTM A312 TP321
ASTM A312 TP321H
ASTM A312 TP347H
ASTM A312 TP347
ASTM A312 TP310S
ASTM A312 TP304H
Stainless Steel 410 Pipe
Stainless Steel 317L Pipe
Stainless Steel 310 Pipe
Stainless Steel 316H Pipe

Other Grades
SS 446
Inspection, Test Reports
EN 10204 3.1, Mill Test Certificates, PMI Test Reports, Chemical Reports, Mechanical Reports, NABL Approved Lab Reports, Visual Inspection Reports, Destructive and Non Destructive Test Reports, Third Party Inspection
Technique
Cold Rolled Hot Rolled
Stockholder and Stocking Distributor of
DMV, SUMITOMO, SANYO SPECIAL STEEL JAPAN, SANDVIK, and TUBACEX
Buy Stainless Steel Pipes at Best Price:-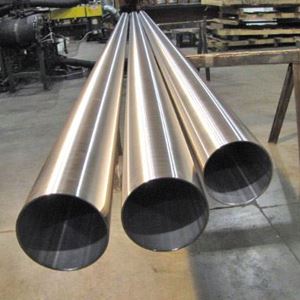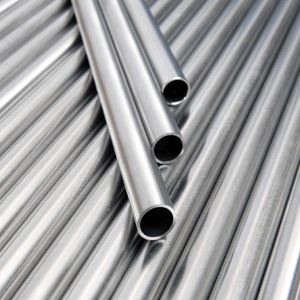 Stainless Steel Pipe American Standards
| ASTM | ASME | TYPE |
| --- | --- | --- |
| A312 | SA 312 | Seamless, Welded |
| A358 | SA 358 | EFW |
| A778 | SA 778 | Seam and spiral butt seam welded |
| A213 | SA 213 | Seamless |
| A249 | SA 249 | Welded |
| A269 | SA 269 | Seamless, Welded |
| A358 | SA 358 | EFW |
| A376 | SA 376 | Seamless |
| A409 | SA 409 | Welded |
SS Pipe Sizes and Dimensions
SIZE RANGE
SCHEDULE CHART
MANUFACTURING TYPES
O. D. .5"-8"
Available Length: 17' – 24'
SCH 5
Seamless, Welded
O. D. : 0.5″ thru 20″
Available Length: 17′ – 24′
SCH 10
Seamless, Welded
O. D. : 0.25″ thru 20″
Available Length: 17′ – 24′
SCH 40
Seamless, Welded
O. D. : 0.5″ thru 20″
Available Length: 17′ – 24′
SCH 80
Seamless, Welded
ASME B36.19 Stainless Steel Pipe Size Chart
Dia NPS
OUTSIDE
DIAMETER(Milimeter)
SCH-5S
WALL THICKNESS(Milimeter)
SCH-10S
WALL THICKNESS(Milimeter)
SSCH-40S
WALL THICKNESS(Milimeter)
3/8
17.15
1.65
2.31
5
141.30
2.77
3.40
6.55
3/4
26.67
1.65
2.11
2.87
1
33.40
1.65
2.77
3.38
1 1/4
42.16
1.65
2.77
3.56
1 1/2
48.26
1.65
2.77
3.68
4
114.30
2.11
3.05
6.02
2
60.33
1.65
2.77
3.91
2 1/2
73.03
2.11
3.05
5.16
1/2
21.34
1.65
2.11
2.77
3
88.90
2.11
3.05
5.49
3 1/2
101.60
2.11
3.05
5.74
1/4
13.72
1.65
2.24
6
168.28
2.77
3.40
7.11
8
219.08
2.77
3.76
8.18
10
273.05
3.40
4.19
9.27
12
323.85
3.96
4.57
9.53
14
355.60
3.96
4.78
9.53
24
609.60
5.54
6.35
9.53
16
406.40
4.19
4.78
9.53
18
457.20
4.19
4.78
9.53
20
508.00
4.78
5.54
9.53
22
558.80
4.78
5.54
30
762.00
6.35
7.92
32
80
812.8
2032.0

(Thickness):6.35~30mm

Nominal diameter and wall thickness subject to the approval of vendor and purchaser
SS Round Pipe Stockist, Buy Schedule 40 Stainless Steel Pipe, ASME B36.10 SS Electropolish Pipe, ASME B36.19 Stainless Steel ERW Pipe Stainless Steel Cold Drawn Pipes, Stainless Steel Seamless Pipes In India.
The ASME SA312 Stainless Steel Pipe is utilised in situations that require a high level of strength. The pressure classes of stainless steel Schedule 10 pipe are rather modest. We also produce a variety of grades. Our ASTM A312 Stainless Steel Pipe, such as A312 TP304, can withstand high temperatures. Ansi B36.19 Stainless Steel Pipe is also available in all grades. Although SS Round Pipe is the most popular, we also make SS Oval Pipe for unique applications. Our SS Rectangular Pipe can also be utilised for structural purposes. We provide stainless steel pipes for a variety of industries, including residential and low-cost applications, as well as the aerospace, chemical, marine, and petrochemical industries.
High-frequency or low-frequency resistance is used to make stainless steel erw pipes. Round pipes are welded from steel plates using longitudinal welds. It is very essential in the field of transportation pipes all over the world. Natural gas, oil, and other vapour-liquid objects are transported using ERW steel pipes, which can also meet a variety of high and low pressure requirements. The chromium in astm a312 welded pipe provides corrosion resistance at high temperatures. It has the ability to withstand corrosive and toxic conditions. It has good forming, hardness, and welding properties.
Application Industry
Oil and Gas Pipeline
Chemical Industry
General Purpose Applications
Fabrication Industry
Food Processing Industry
Pharmaceutical Equipment
Material Testing
Hardness Test
Flattening Test
Micro and MacroTest
Pitting Resistance Test
Flaring Test
Intergranular Corrosion (IGC) Test
Documentation
Fumigation Certificates
Raw Material Test Reports
Material Traceability Records
Heat Treatment Charts
Guarantee Letter
Commercial Invoice which includes HS Code
Pipes & Tubes Supplier
Mumbai, Delhi, Kolkata, Chennai, Bengaluru, Hyderabad, Ahmadabad, Pune, Surat, Jaipur, Kanpur, Lucknow, Nagpur, Ghaziabad, Indore, Coimbatore, Kochi, Patna, Kozhikode, Thrissur, Vadodara, Agra, Malappuram, Thiruvananthapuram, Kannur, Ludhiana, Nashik, Noida, Madrid, Sharjah, Moscow, Hong Kong, Lagos, Montreal, Bogota, Los Angeles, New Delhi, Jeddah, Chennai, Kanpur, Edmonton, Istanbul, Bhopal, Calgary, Ulsan, Rio de Janeiro, Colombo, Cairo, Ludhiana, Indore, Thane, Dubai, Seoul, Santiago, Kuwait City, Dammam, Tehran, Busan, Rajkot, Nagpur, La Victoria, Bangkok, Granada, Lahore, Manama
Pipes & Tubes Exporter
South Korea, South Africa, Sri Lanka, Syria, Taiwan, Tanzania, Tajikistan, Thailand, Turkey, Turkmenistan, Ukraine, United Kingdom, United Arab Emirates (UAE), Uzbekistan, Vietnam, Yemen, France, Germany, Greece, Oman, Colombia, Portugal, Japan, Lithuania, Macau, Mongolia, Qatar, Ireland, Malaysia, Bangladesh, United Kingdom, Russia, Iran, Vietnam, Jordan, Yemen, South Africa, Singapore, Sri Lanka, Thailand, Bulgaria, Poland, Denmark, Nigeria, Gambia, Indonesia, Finland, Argentina, Chile, Spain, Peru, Kuwait, India, Saudi Arabia, Slovakia, Slovenia, Spain, Sweden, Switzerland, Singapore
People Also Search For
Stainless Steel Sheets Supplier India, Stainless Steel Coils Supplier India, SS 304 coil price list, stainless steel 304 cold rolled coil distributors, stainless steel 304 profile dealers, stainless steel 304 circle price list, stainless steel 304 coil exporter in mumbai, ss 304 coil Supplier in India, stainless steel 304 coil exporter in india, Stainless steel 304 coil-circle exporter in mumbai, ss 304 blank suppliers, stainless steel 304 coils price, ss 304 circle price list, astm a240 ss 304 circles exporter, ss 304 shim coils, Stainless steel 304 coil supplier in mumbai, Stainless Steel Plates Supplier India, , ss 304 coil cheap price, high quality ss 304 coils stockholder in mumbai india.